Financial Inclusion (FI) is a very important topic for Bank & Government exams. You can expect questions from Financial Inclusion under the Banking Awareness section of these exams.
What is Financial Inclusion?
Financial inclusion means that individuals and businesses have access to useful and affordable financial products and services that meet their needs – transactions, payments, savings, credit and insurance – delivered in a responsible and sustainable way.
PRINCIPLES UNDERLYING THE BANKING INDUSTRY'S WORKING DEFINITION OF FINANCIAL INCLUSION:
The main goal of financial inclusion is to improve the range, quality and availability of financial services and products to the unserved, under-served and financially excluded. The definition of Financial Inclusion should embrace certain key principles which The Banking Association South Africa considers critical for delivering a broad range of quality financial services and products to the most vulnerable in our society who comprise both the unbanked and the under-banked. These key principles are:
ACCESS
The availability of affordable and appropriate financial products, services and delivery channels to the target market to facilitate universal access.
AFFORDABILITY
Products and services provided at affordable cost. The continuum of financial institutions should strive to reduce cost-to-client and the cost-to-serve in order to ensure that the price of products and services is in line with the target markets' ability to pay for them.
APPROPRIATENESS
Product should address the needs of clients and ensure their protection and dignity, taking cognisance of regulatory and language barriers. 
USAGE
The act of employing or utilising a financial service or product. Access is of no use if the targeted persons are not using the product or service therefore real inclusion should be accompanied by usage.
QUALITY
Describes how financial services are provided. Quality financial inclusion includes the following traits: affordability, simplicity, convenience, product-fit, safety, dignity of treatment, and client protection. Quality refers to product design and delivery traits that enhance the value of services to clients.
CONSUMER FINANCIAL EDUCATION
The provision of consumer financial education on the use of financial services is important if the previously disadvantaged are to use these services in a productive and responsible manner that will not cause them harm.
INNOVATION AND DIVERSIFICATION
Embrace innovative product design, delivery channels and new technologies, keeping in mind that inclusion will be driven by diverse institutions on the financial services continuum.
SIMPLICITY
The ease of use and understanding of the product and services, simple language and channels that are used to deliver them.
Why Financial Inclusion in India is Important ?
The policy makers have been focusing on financial inclusion of Indian rural and semi-rural areas primarily for three most important pressing needs:
Creating a platform for inculcating the habit to save money – The lower income category has been living under the constant shadow of financial duress mainly because of the absence of savings. The absence of savings makes them a vulnerable lot. Presence of banking services and products aims to provide a critical tool to inculcate the habit to save. Capital formation in the country is also expected to be boosted once financial inclusion measures materialize, as people move away from traditional modes of parking their savings in land, buildings, bullion, etc.
Providing formal credit avenues – So far the unbanked population has been vulnerably dependent of informal channels of credit like family, friends and moneylenders. 

Availability

 of adequate and transparent credit from formal banking channels shall allow the entrepreneurial spirit of the masses to increase outputs and prosperity in the countryside. A classic example of what easy and affordable availability of credit can do for the poor is the micro-finance sector.
Plug gaps and leaks in public subsidies and welfare programmes – A considerable sum of money that is meant for the poorest of poor does not actually reach them. While this money meanders through large system of government bureaucracy much of it is widely believed to leak and is unable to reach the intended parties. Government is therefore, pushing for direct cash transfers to beneficiaries through their bank accounts rather than subsidizing products and making cash payments. This laudable effort is expected to reduce government's subsidy bill (as it shall save that part of the subsidy that is leaked) and provide relief only to the real beneficiaries. All these efforts require an efficient and affordable banking system that can reach out to all. Therefore, there has been a push for financial inclusion.
Why do we need Financial Inclusion?
A large section of the society still remains unbanked. Unbanked people are people who only have the basic transaction bank accounts. These are people who have secured the traditional tools for conducting transactions but aren't privy enough to digital incorporation of the same.
According to the World Bank, around 2 Billion people don't use formal financial services and more than 50% of adults in the poorest households are unbanked.
This has led to a lot of financial instability and pauperism among the people of lower income group who do not have access to financial services and products. There are so little banks, especially in rural areas, that these unbanked users carry out transactions either in cash or cheques, making them vulnerable to theft and fraud.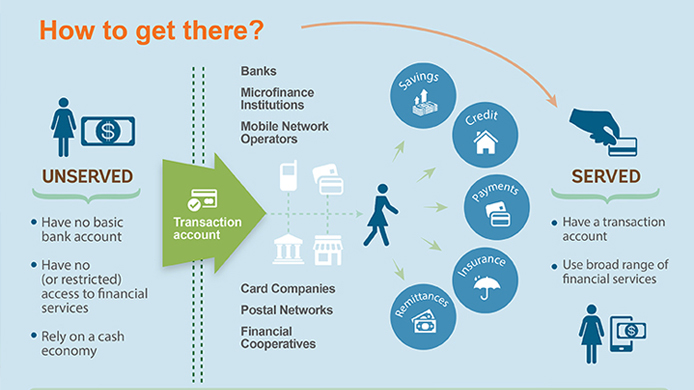 WINDOW OF OPPORTUNITY
Financial Inclusion provides the banking industry with a window of opportunity to:
Promote financial sector-wide stakeholder debate about accessible and affordable services from diverse service providers

Shift from supply-side only to include a balanced focus on demand-side elements

Change the industry mindset from deliverable imposed to business opportunity offered, thereby promoting competition and market-based incentives for sustainable financial access

Develop a framework that captures the "Bottom-of-the-Pyramid" (BOP) market and fosters cross-sectoral partnerships and collaborations

Influence and shape debate on a national and international level

Evaluate, determine and understand the elasticity when down-scaling (a strategy to provide financial services to low-income consumers/entrepreneurs).
Financial inclusion is becoming a priority for policymakers, regulators and development agencies globally:
Financial inclusion has been identified as an enabler for 7 of the 17 Sustainable Development Goals.  

The G20 committed to advance financial inclusion worldwide and reaffirmed its commitment to implement the G20 High-Level Principles for Digital Financial Inclusion. 

The World Bank Group considers financial inclusion a key enabler to reduce extreme poverty and boost shared prosperity, and has put forward an ambitious global goal to reach Universal Financial Access (UFA) by 2020.
What are some of the measures taken to achieve greater Financial Inclusion? 
In India the term Financial inclusion was used for the first time in April 2005 by the then Governor of RBI: Y Venugopal Reddy. There are several measures taken to achieve greater Financial Inclusion, especially by the Government, World Bank and the Reserve Bank of India, such as facilitating no frills accounts and GCCs. Here are some of the initiatives taken:
Opening BSBD (Basic Savings Bank Deposit) accounts
The Reserve Bank has advised all the banks to open a basic account with facilities such as no minimum balance, receipt or credit of money through electronic payment channels, ATM cards facilities, deposit and withdrawal of cash at bank branches as well as the ATM.
Relaxation on know-your-customer (KYC) norms
To make opening of bank accounts easy, especially accounts with low balance such as not exceeding 50,000 and aggregate credits in the accounts not exceeding rupees 1 lakh a year. Banks are also allowed to use aadhar card as proof of address and identity.
Domestic Scheduled Commercial Banks (SCBs) are permitted to open branches in Tier-2 to Tier-6 centers with population under 1 lakh under general permission subject to reporting, to address the issue of uneven spread of bank branches. In North-eastern states and Sikkim, the domestic SCBs can open branches without permission from the RBI.
Opening branches in unbanked rural areas
RBI has directed banks to allocate at least 25% of their branches to be opened in Tier-5 and Tier-6 centers during the year.
Licensing of new banks
The business models aimed at furthering financial inclusion, would be looked into closely in processing applications for bank licensing.
The RBI also urged banks to review their existing objectives and practices in order to align them with the objectives of Financial Inclusion. It also permitted banks to use NGOs and SHGs,  microfinance institutions and civil society organizations as intermediaries to facilitate financial and banking services.
What are some other measures taken?
Thanks to use of technology in Finance industry, the void of inaccessibility to Financial services has been filled.
Mangalam in Puducherry became the first village in India where all the households were provided with facilities of Banking.
General Credit Cards (GCCs) were issued to the poor, low-income group and disadvantaged to help them access easy credit.
A 100% Financial Inclusion campaign was launched by commercial banks in different regions. This resulted in states or UTs like Puducherry, Kerala and Himachal Pradesh announcing a 100% financial inclusion in their districts.
Many startups were launched to work towards increasing the Financial Inclusion. For instance, Fintech is working to create mobile payment and micro-lending facilities for financially underbanked users.
There are many online payments and mobile payment services to facilitate ease with which unbanked people can immerse themselves in the digital economy, like AliPay and Paytm, and foster financial inclusiveness.
These companies have also come up with innovations to promote transparency in their dealings with customers to gain their trust.
Financial inclusion & Institutional Structure & Mechanisms
Institutional Structure of Rural Banking includes & Formal : (direct/indirect & short-term/long-term)

RBI – regulator of SCBs

NABARD: (re-financing)

Commercial Banks – Credit Disbursal

Local Area Banks (LABs) – their geographical spread is constrained to few districts; Private in nature

RRBs – Credit Disbursal — Equity holdings of __
Central Govt. : State Govt. : Sponsoring Bank = 50 : 15 : 35 
Cooperatives – Credit Disbursal

3-tier Cooperative Credit Delivery (Short-term Credit)

PACS – Primary Agricultural Cooperative Societies; 40.74% if PACS were loss-making; Village/PACS ratio – 7.8

DCCB, SCB,MFIs,SHGs

PCARDBs – Primary Cooperative agricultural and Rural Development banks

SCARDBs – State Cooperative agricultural and Rural Development banks

They belong to both money market and capital market and offer both short-term and long-term loans. SCBs and some UCBs(Urban cooperative banks) are scheduled banks.

Land Development Banks – Credit Disbursal

National Scheduled Tribes Finance and Development Corporation (NSTFDC)

The National Scheduled Castes Finance and Development Corporation (NSCFDC)

National SafaiKaramcharis Finance and Development Corporation (NSKFDC)

National Backward Classes Finance and Development Corporation (NBCFDC)

National Minorities Development and Finance Corporation (NMDFC)

North-East Development Finance Corporation Ltd

Credit extended by banks through Govt. employment generation programmes: also involves an element of govt. subsidy

Swarnajayanti Gram SwarozgarYojana (SGSY)

Prime Minister's RozgarYojana (PMRY)

NBFCs and NGOs

Informal :Money-Lenders, Friends and Relatives